Trenchless pipe repair is a method of repairing pipes without having to dig first. Before technology advances that allow us to do video camera inspections of your pipes, plumbers used to have to dig up your yard to find the source of your plumbing problems.
Those days are over and Raby Plumbing employs this minimally invasive method of repair for our customers to save time and diagnose the problem, if any, before work is done. This makes pipe repair much less of a hassle and gets you back in working order quickly and easily.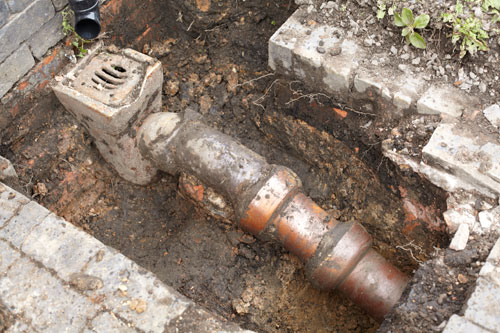 Broken pipes can happen for many reasons: including erosion of the metal in your pipes or growing roots into the pipes. Raby Plumbing has a way to prevent roots from ever causing your pipes to break again. Ask us about our Root Out Lifetime Warranty.
If you suspect you may have a broken pipe, look for the common warning signs. Is water backing up into your home or building? Do you see puddles of water forming on the floors or on the lawn? Do you have damp floorboards or carpet? Are your pipes leaking water? Are you not getting water from your faucets? If you're experiencing any of these issues, your pipes may be in need of repair.
Without breaking ground on your lawn, trenchless repair can bridge a missing pipe section, increase your water flow efficiency, seal joints and provide long-lasting results.
Did we mention trenchless pipe repair also saves you money? By making the job of diagnosing and repair much faster, avoiding large dirt piles in your yard and minimizing downtime, we are able to be a cost effective solution for you when plumbing issues arise. We are available 24 hours a day, 7 days a week for your convenience.